Velociraptor

Animal Statistics

Animal Type
Saurischian dinosaur
Diet
Carnivore
Velociraptor can also be downloaded for Wildlife park 2, but are known as "Raptor's". They must be researched from Gastornis. In 2009-2011 the Velociraptor was released in the long made development pack of Wildlife Park 2 called Dino World but it was a full game with all animals, people and items from every game of Wildlife Park 2.
| | |
| --- | --- |
| | Wikipedia has a more detailed and comprehensive article on Velociraptor |
Wildlife Park: Wild Creatures
Edit
"
The velociraptor was once discovered by H.F. Osborn in Mongolia. He lived in the late Cretaceous period, approximately 84–80 mil years ago and was not only common in Mongolia, but also in China, Russia and North America. A spectacular discovery hit the headlines in 1971: a velociraptor and a protoceratops, both seemingly killed each other while fighting. The velociraptor had his sickle claws one on each hind leg
"
 

— Information about the animal in Wildlife Park
It was first seen in Wildlife Park: Wild Creatures. In Wild Creatures, they must be researched and bred from the Archeopteryx.
Wildlife Park 2: Dino World
Edit
Cost: $35000
Attractiveness: 4 stars
Water: 2 l/day
Meat: 2 kg/day
Movement Edit
Run: 10 hours/day
Jump: 3 hours/day
Environment Edit
Lowland
Hardness of Ground: 20 to 35
Temperature: 20°C to 40°C
Social Matters Edit
Maximum Age: 15 Years
Sexual Maturity: 1 Year
Size of Herd: 4 to 20
Offspring: 1 to 4
Gestation Time: 1 Month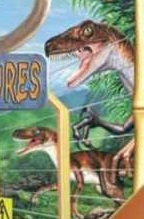 On the box cover of Wildlife Park: Wild Creatures, a Jurassic Park-styled Velociraptor is featured. But in the game its colors are now changed to orange with black stripes instead of brown.
Trivia not relevant for the game
Edit